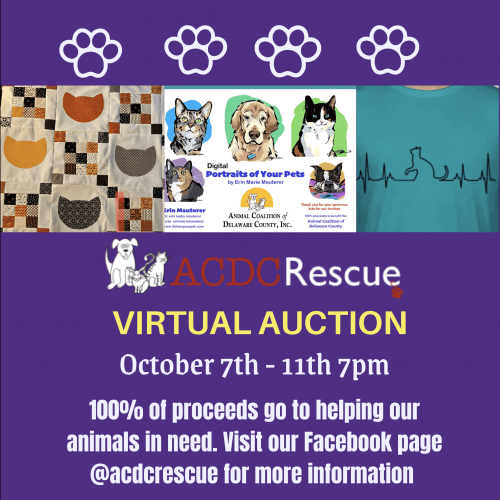 Auction begins, Thursday, October 7th at 7:00pm and ends Monday, October 11th at 7:00pm. Photos will begin posting about 30 minutes before.
ACDC Rescue is hosting a Virtual Auction to raise money for our various cats in foster care, vet expenses and the cats living at Cat Nook Café.
Images for auction will be posted in a designated album and bids will be based incrementally on comment timestamps. You only need to post the increment you would like to increase based on the previous post. So, if the bidding starts at $10 and there are 10 comments with $1 increments, the item is $20 at the end of the bidding.
Each item has a different price and bidding increment so please read the description on these items before bidding.
PAYMENTS & SHIPPING:
Winners will be invoiced VIA Square for the winning total, plus shipping charges. Winners must pay invoices within 48 hours with credit card or Venmo. If not paid, your winning will be forfeited and you will be unable to bid in future auctions.
Individual shipping costs are flat rate dependent upon item. Please read item description for individual shipping rate. Scheduled pick up at Cat Nook Café also available.
REFUNDS:
Auction items are non-refundable and non-transferable. If you do not wish to receive the item you won, your purchase will count as a donation to the Cat Nook Café.
——
Animal Coalition of Delaware County, Inc. is a foster-based, all volunteer rescue; a 501(c)3 registered charity dedicated to homeless animals.