Dear Friend-
They are neglected, homeless, and have no voice.  These are the animals that we rescue.
Thanks to your generosity, ACDC Rescue is proudly celebrating its 19th anniversary and the Cat Nook Cafe is celebrating 5 yrs in operation.  We have saved thousands of animals, but there are many more that need our help.  As a foster-based rescue with no paid staff, we continue to rely on the generosity of our volunteers and members of the community, like you, to continue our mission.
Rescuing cats from unsafe, outdoor conditions has been a top priority for ACDC and this year was no exception. These cats are often underweight, loaded with parasites, and sick as they struggle to try to survive.  There are countless homeless, friendly, adoptable cats tossed out into the street, and we are working hard to save as many as possible, but we need your support.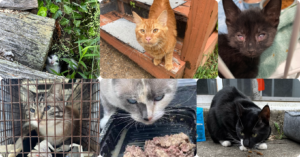 Getting the cats out of unsafe conditions is only the first step.  Quite often the cats and kittens we intake require extensive care once settled into their foster home.  Infections are common and young kittens and nursing mothers are quite vulnerable.
The kittens pictured below are just a few that ACDC Rescued that required additional veterinary care.  Without the medical care from our veterinarians and the dedicated care of our foster parents they surely would not have survived outdoors for long.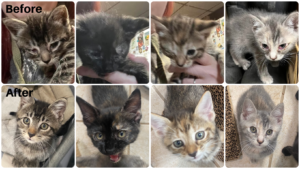 Bart is a volunteer favorite—his favorite position is perched on a shoulder.   Unfortunately this handsome boy has endured some challenges.  When rescued from the streets as a kitten with his sibling both had respiratory infections and some breathing issues.  While his sister was able to recover, Bart's breathing remained abnormal.  A cardiac ultrasound (which required a visit to the specialist) was necessary to rule out any heart issues.  Luckily, nothing abnormal was found. Unfortunately, Bart then developed painful eye issues.  More vet visits determined he suffers from keratoconjunctivitis sicca, which means he has low tear production causing his eyes to be painful to open when the condition flares up.  He has been a trooper for his treatment and we hope he will be available for adoption soon.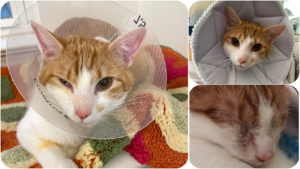 Royce also needs your help!  His adorable face, big blue eyes, and sweet demeanor make him hard to resist. His scarves and collars are not a fashion choice.   They help keep him from scratching his skin around his head and neck making them red, raw, and infected (see below).  After countless costly vet visits, and a variety of treatments: antibiotics, steroids, sprays, and various special diets with no significant improvement he required a veterinary specialist.  Royce has been seeing a veterinary dermatologist and has begun allergy injections to treat his skin condition.  This continues to be a costly journey, but with your help ACDC is determined to get Royce the treatment he requires so that he can enjoy a forever home.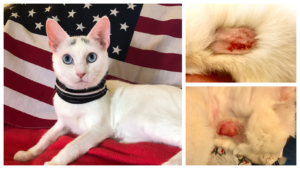 With the support of community members like you, ACDC Rescue has continued to rescue the most vulnerable cats in Southeastern PA.   Your donation will provide the resources required to care for an injured or neglected cat.  Be the difference.
Please help us save more cats by donating today!
ACDC Annual Fund
Help us reach our goal amount today!