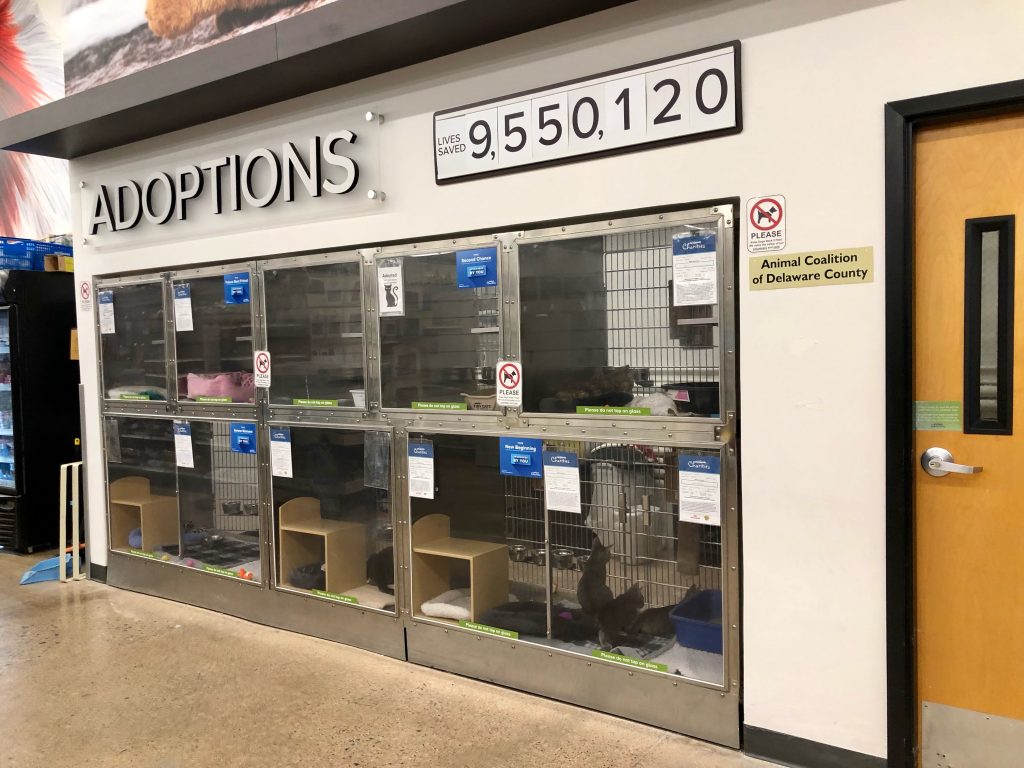 Cat Adoption Center Volunteers
Are you a cat lover? How does playing with cuddly adoptable cats sound to you? At our cat adoption centers you will be able to pet, play and cuddle with some adoptable, loving cats. You also will have the responsibility of feeding and caring for these pets during your shift. Sound interesting? Learn more below!
Our Adoption Centers are staffed entirely by ACDC volunteers. The cats, potential adopters and the staff can interact in a more intimate environment when using the adoption center. Volunteers should be able to work independently and feel comfortable interacting and speaking with the public.
This comfortable environment helps facilitate adoptions to those who may not have considered a shelter animal, while raising community awareness of the homeless pets in the Philadelphia region as well as the compassion, appreciation, respect and responsibility of lifetime pet ownership. It is a great way to expedite a new happy beginning for a homeless pet and to raise in kind donations to assist in continuing our mission.
What to Expect:
Volunteers help keep the cats happy and healthy at the Adoption Center, you will be responsible for:
Providing Food
Providing Clean Water
Cleaning Cages
Scooping the Litter Boxes
Offering enrichment activities by playing, petting and exercising the cats
Volunteers assist the public when they have questions or want to visit with an adoptable cat
Requirements:
The adoption centers are fully staffed by volunteers year round, excluding some holidays. It is imperative that the volunteers are reliable and on time – the cats are dependent upon us for their care.
A

1-3+ hrs/week depending on location and duties

Volunteers must commit at least six months
** If the volunteer hours are to be used towards community service projects, we need to know in advance and will sign off on the hours after the 6 month commitment is completed. **
Qualifications:
Volunteers must be at least 18 years old.
ACDC representatives must maintain a clean, neat and professional appearance at all times and conduct themselves in a courteous manner.
All volunteers are required to attend a one hour orientation before being scheduled for a shift. The orientation includes a tour of the adoption center, responsibilities and duties while working a shift and managing the adoption center schedules.

All adoption center volunteers must be able to engage in conversation with the public as well as work independently with little to no supervision.
Locations8
PetSmart – Broomall
2940 Springfield Rd
Broomall, PA 19008
Petco – Granite Run
1087 West Baltimore Pike, Suite A
Media, PA 19063
Does this volunteer position at a Cat Adoption Center sound interesting to you? Click the button below to apply to volunteer and we will contact you with more information about this position.