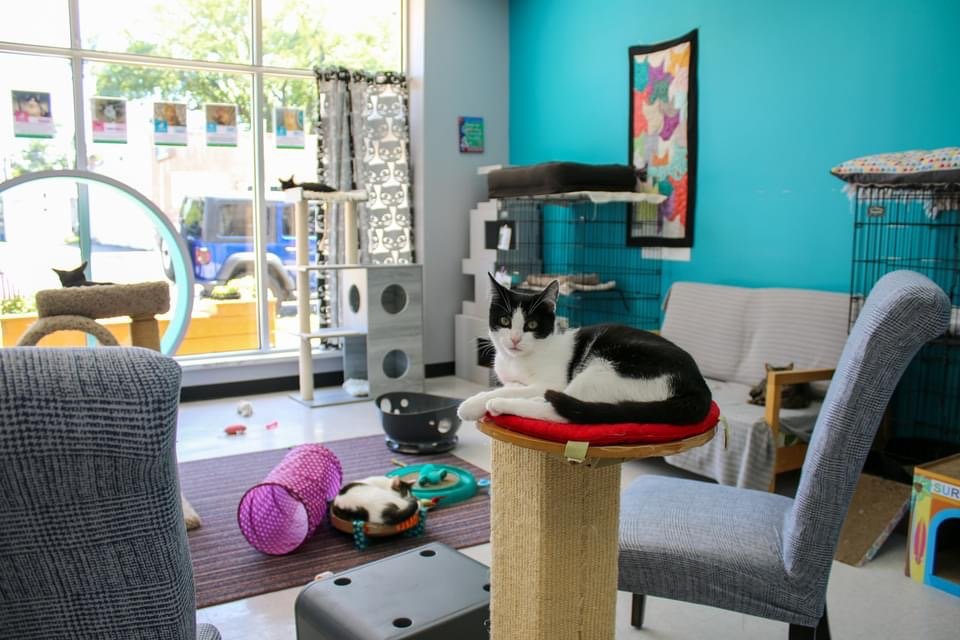 If you enjoy talking to people, have compassion for helping LOCAL homeless pets and describe yourself as reliable, social, energetic, and thrive on learning new things, then the Cat Nook Cafe is the right place for you to volunteer!
Volunteers help keep the cats happy in the Cat Lounge by providing food, water, clean cages, scooping litter boxes, and that the Cat Lounge is ready for guests. They make sure the cat cafe is clean and assist the public when they have questions or want to book time to visit with the adoptable cats. Cafe Attendants serve beverages and snacks as well as assist patrons with merchandise purchases.
What to Expect:
Volunteers help keep the cats happy and healthy at the Cat Nook Cafe, you will be responsible for:
Cat Care Including: providing food and fresh water, scooping the litter box and checking on cats general wellness.
Keeping the cats healthy and happy during your shift by keeping a watchful eye over them and noticing any changes in behavior.
Greet customers with a friendly and welcoming attitude as well as maintaining a positive attitude while interacting with guests.
Answer customer questions in relation to booking the cat lounge, cat care and how to adopt a cafe cat.
Serve customers beverages, snacks and assist them when purchasing merchandise at the point of sale.
Maintain cleanliness; clean equipment, dishes and furniture as needed.
Volunteers assist the public when they have questions or want to visit with an adoptable cat
Who Are We Looking for: 
A love of cats and passion for their welfare.
Must be able to engage in conversation with the public as well as work independently with little to no supervision.
Must be able to bend down and lift up to 20 lbs.
Cat Nook Cafe volunteers must conduct themselves in a kind and courteous manner.
Maintain a clean, neat and professional appearance at all times.
Requirements:
The adoption centers are fully staffed by volunteers year round, excluding some holidays. It is imperative that the volunteers are reliable and on time – the cats are dependent upon us for their care.
Cat Nook Cafe Volunteers must be at least 18 years old.
Volunteers commit to a 3-4 hour (one shift) a week commitment for at least six months.
Since the cafe is fully staffed by volunteers 365 days a year, volunteers reliably show up on time. The cats are dependent upon us for their care.
If the volunteer hours are to be used towards community service projects, we need to know in advance. We will sign off on the hours after the 6 month commitment is completed.
All volunteers attend an orientation before being scheduled for a shift.
Locations:
Cat Nook Cafe
18 W. Winona Ave
Norwood, PA 19074 
Does this volunteer position at the Cat Nook Cafe sound interesting to you? Click the button below to apply to volunteer and we will contact you with more information about this position.